The definition of what constitutes spyware is not easy.
But basically, any site or program that collects personal information about you without your express knowledge or factual consent should be considered spyware.
Anyone, that then distributes this information should be prosecuted for theft.
Unfortunately, government officials around the world are much to complacent about these activities and rely on marketing and advertising corporations to self regulate themselves, which is not happening.
You and I have therefore to take it in our hands to find ways to protect ourselves from all these spying invading snakes
Fortunately, there are ways to protect ourselves.
1. Next time you download a program, and hopefully you will do this before you download, is to check if this program is considered spyware :
Have a good list updated regularly :
2. The first program to eliminate spies was called opt-out, By Steve Gibson.
THEN CAME AD-AWARE FROM LAVASOFT WHICH WILL TAKE CARE OF THE MAJORITY OF THE SPIES.
WINNER OF THE 2001 ST ISIDOR SHAREWARE AWARD
WINNER OF THE 2002 ST ISIDOR SHAREWARE AWARD
In The Utilities and Tools Category.
I have 4 recommendations for trouble free operation of this application:
1. It's better to run Ad-Aware manually and not automatically at start up.
2. Close browser windows and running applications before running ad-aware.
3. Do not check the box that removes spyware automatically.
Look at what the program identified as spyware and print a copy of the scan.
4. Make Backup before you delete anything in case of problems in order to be able to go back to previous setup. There are things such as false positives !!!
Then came Spybot Search & Destroy which is already making waves :
Searches your harddisk for so-called spy- or adbots; little modules that are responsible for the ads many programs show. But many of these modules also transmit information about your surfing behaviour and more to the net.
If SpyBot-S&D finds such modules, it can remove them - or replace them with empty dummies in case their host won't work any more with its bot removed. In most cases, the host software still runs after removing the bot.
For a list of 'supported' bots see the feature lists below. Spybot-S&D works with an easy interface that allows updates by just replacing a file of about 1k size. Those updates come by my software mailinglist.

Another feature of Spybot S&D is the removal of usage tracks, which makes it more complicated for unknown spybots to transmit useful data. The list of last visited websites, opened files, started programs, cookies, all that and more can be cleaned. Supported are the three major browsers Internet Explorer, Netscape Communicator and Opera.

Last but not least Spybot-S&D contains some routines to find and correct invalid entries into the registry.

Warning

Depending on the license agreement of some software that uses spy/adbots, the usage of the software itself is no longer allowed after removal. Please read those license agreements fist!

And remember: the best way to remove ads is to pay the shareware fee!
Also available on my site : ( SpyBot Search and Destroy v12 exe File)
SAME RECOMMENDATIONS AS PREVIOUS APPLICATION
REVIEW AND INSTALLATION NOTES & SCREENS by Craig Ahmad T. Rashad
SUPPORT FORUM FOR SPYBOT SEARCH & DESTROY

Spyware eliminator This one is not free, and perhaps not as good as Spybot Search & Destroy above.
For removing surveillance spyware, keyloggers, and password stealing trojans :
3.A different approach to deal with spyware : SpywareBlaster
SpywareBlaster doesn't scan and clean for spyware - it prevents it from ever being installed.

How? By setting a "kill bit" for the CLSIDs of spyware ActiveX controls, it prevents the installation of any of them from a webpage. You can run Internet Explorer with Active-X enabled, but you will never even get a "Yes/No" box popped up, asking you to install a spyware Active-X control (Internet Explorer will never download or run it!). All other Active-X controls or plug-ins will work fine.

The SpywareBlaster database contains information on these known spyware Active-X controls. Make sure you run the Check For Updates feature frequently to get the latest database! (And make sure you check the new items to protect your system against them!)

As a side benefit, setting this "kill bit" will also prevent the spyware Active-X from running, in many cases, if it is already installed on your system.*
SpywareGuard provides a real-time protection solution against spyware that is a great addition to SpywareBlaster's protection method.

An anti-virus program scans files before you open them and prevents execution if a virus is detected - SpywareGuard does the same thing, but for spyware! And you can easily have an anti-virus program running alongside SpywareGuard.
Features Listing:
Fast scanning engine
Scans exe and cab files - the two most popular file types for distributing spyware
Signature-based scanning - for known spyware (list)
Heuristic/generic detection capabilities - some spyware programs can be detected even if the code undergoes significant changes
Small size - with a small size and small definition sizes, download and updates are quick
SG Control Panel - provides easy access to help and integration options
SG LiveUpdate - provides an easy updating solution
Spyware files are blocked before being opened or run - they are not simply shut down after they are loaded in memory (and after they have performed their tasks)
The full path to the spyware executable is provided on the alert screen
Once a spyware file is detected and blocked from running, the options are provided to either continue or to delete the spyware file
It's a free download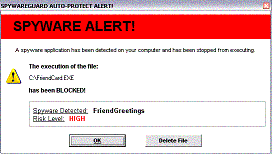 (SpywareGuard alert screen)
SpywareGuard is compatible with:
Windows 98, ME, NT4, 2000, XP

SpywareGuard is freeware / donationware.
It costs considerable time and money to keep SpywareGuard updated. All I (the author) ask is that you make a donation if you like the program and are able to do so.


Download from:

Download SpywareGuard (freeware/donationware) (approx. 615kb)
or
Download SpywareGuard (freeware/donationware) (approx. 615kb)
or
Download SpywareGuard (freeware/donationware) (approx. 615 kb)
or
Download SpywareGuard (freeware/donationware) (approx. 615 kb)
Go to the SpywareGuard forum (generously provided by Wilders Security Organization)
4. SHOULD YOU BE UNFORTUNATE, AND LET ONE GO BY UNSUSPECTED, THEN SPYBLOCKER COMES TO THE RESCUE : IT WILL PREVENT THE SPYING APPLICATIONS FROM PHONING HOME AND WILL BLOCK ALL ATTEMPTS. All you have to do next is find a valid replacement FOR THESE SNAKES !
AdShield is a freeware banner ad blocker that improves browser performance and usability by suppressing the download and display of ad images, pages and popups. Even if you have a fast connection to the Internet you'll benefit from improved browser window and browser cache utilization. Download your free copy today! (only works with IE ! )
Support forum :
Read all about: Bonzi Software, Comet Cursor, Conducent/Timesink, Cydoor, Flyswat, GoHip, Mattell Broadcast (Dss Agent), Radiate (Aureate), Web 3000
Excellent source of information ( in french )
Great Tool to find out who's tracking you
and using those Web Bugs.
WEB FILTERS :
ARE OTHERS YOU MAY WANT TO LOOK AT .

NO Popups, NO Banners, NO Spying
and NO Unwanted content.
FilterGate is a 4 in one filtering package that BLOCKS Unwelcome Popups windows, Banners, Spyware and Adult sites.

FilterGate uses automatic patented filtering technology to analyze each web page decides whether the content is a legitimate popup, advertisement or promotion, a friendly cookie or a rogue cookie and blocks them accordingly.
WITH THE NEW SMART FILTERING FEATURE introduced in version 5.05 FilterGate has become the most effective and easy to use WEB FILTER on the market today.

Download FilterGate to browse the Net WITHOUT ADS !
MIDI Music titled "SUSANNA" plays automatically

112 seconds